Donations from eBay work slightly differently from other retailers. eBay has certain terms and conditions that can affect your donations. You can see a full list of their terms and conditions as well as donation rates here: https://www.giveasyoulive.com/stores/ebay
Using the Donation Reminder:
When shopping with eBay via our Donation Reminder, you will need to manually 'turn on' Give as you Live Online. You can do this by clicking on the red heart icon

in your toolbar. A box will appear showing your current store as eBay. Simply select 'Turn on' and you'll be ready to raise a free donation.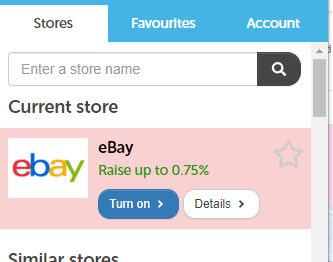 Using a mobile device:
Unfortunately, eBay does not pay donations for purchases made via the eBay app. If you are using a mobile device, you will need to complete the purchase via eBay's mobile website instead.
Donation exclusions:
Donations are not available on eBay Motors (excluding parts and accessories), real estate, gift cards, bullion, and heavy equipment within the Business & Industrial category. Donations are not available on any purchase under £1 or made using a sniping tool.
Claiming missing donations:
Unfortunately, eBay does not accept any claims - this is because they lack the processes required to deal with claims.