If you are having trouble using our Donation Reminder toolbar in Chrome, you may need to alter your browser settings.
Please follow the below instructions:
Type chrome://extensions in the search bar and press enter.
In the list of extensions, find the Give as you Live Donation Reminder and click the "Details" button.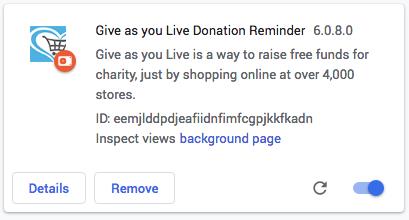 Under "Site access", click on "on all sites"
If you are still having problems with our Donation Reminder, please contact our customer help desk.