If you are trying to sign in with the correct details, and it keeps wiping the fields, it is most likely you need to allow third-party cookies.
Please select your browser below to check your cookies:
Google Chrome:
Click the Chrome menu icon
Select Settings
Under 'Privacy and security' select 'Site settings' and 'Cookies and site data'.
Make sure either 'allow all cookies' or 'block third-party cookies in Incognitio' is selected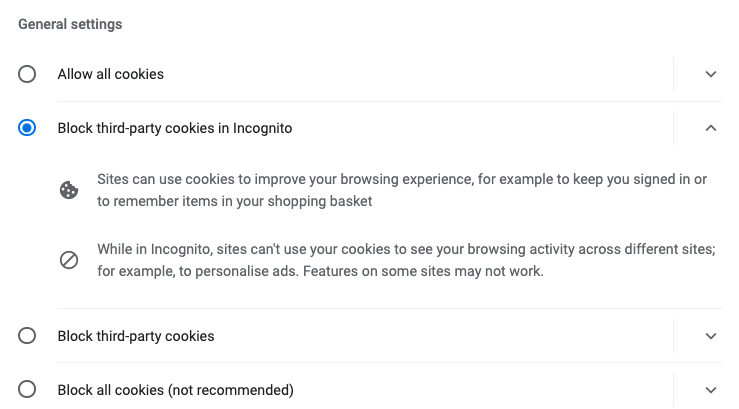 Firefox:
Firefox has recently changed the layout of its settings. If the below instructions are not correct for your version of Firefox, please do get in touch and we can try to find the right settings for your version.
Select the menu panel in the top right corner of the Firefox browser.
Select 'settings' and the 'Privacy & Security ' tab.
Under 'History' set Firefox will: Use custom settings for history.
Under 'Cookies and Site' and 'content blocking' you will need to select 'Custom' Ensure that no boxes are selected.​
Close the settings tab down, the settings will save.
​
Safari:
Under the left-top Safari button in the taskbar, select Preferences
Select the Privacy panel
Make sure that the "Block all cookies" option is not checked
Close the window

Opera:
Click on Menu in the top left corner and select Settings.
Click the Browser section on the left side panel.
Go to the Network section and click on Change proxy settings.
Click on the Privacy tab at the top. In settings move the bar to Medium
If you have XP Service Pack 2, the section below Settings will say Pop-up Blocker
Select the Pop-up Blocker checkbox and click the Settings button
Add the attached white list websites to the Address of the WebSite to Allow box
Close the pop-up blocker window.
Click on the Security tab
Click on the Trusted Sites button
Click on Sites
Add whitelist websites in the box
Click Close
Click OK
If you are using a browser that is not listed above or any of the instructions given are incorrect/do not apply to your browser version please do not hesitate to get in touch with our help team.